What We Are Doing
Research at the
Urban Griots Collaborative
investigates the potential of embodied and rhythmic practices and communication tools to enhance children's acquisition of multimodal literacy skills.
Our Vision
to support the early literacy, social and emotional development of all children
to understand what affordances the drum language communication modality can contribute to children's development, especially when mediated via a digital embodied learning environment.
to prototype the design of culturally-grounded technologies that can facilitate the inclusion of relevant cultural knowledge and history to provide new gains for children across a variety of subjects
How We Are Doing It
We employ a range of methods in our design-based research agenda including:
Learn more
What We Want to Find Out
Our research seeks answers to these pivotal questions:
What are the impacts of embodied learning environments, activities, and games using the Urban Griots approach on children's multimodal literacy skills development?
What are the impacts of the same approach on children's socio-emotional development?
What are the impacts of this approach on children's family relations?
How can this research be adapted to help children with learning disabilities (autism spectrum disorder, speech/visual impairment)?
Get Involved
Are you the parent of a child aged 3 to 6 who enjoys music, dance, or video games? Join us for a unique learning experience!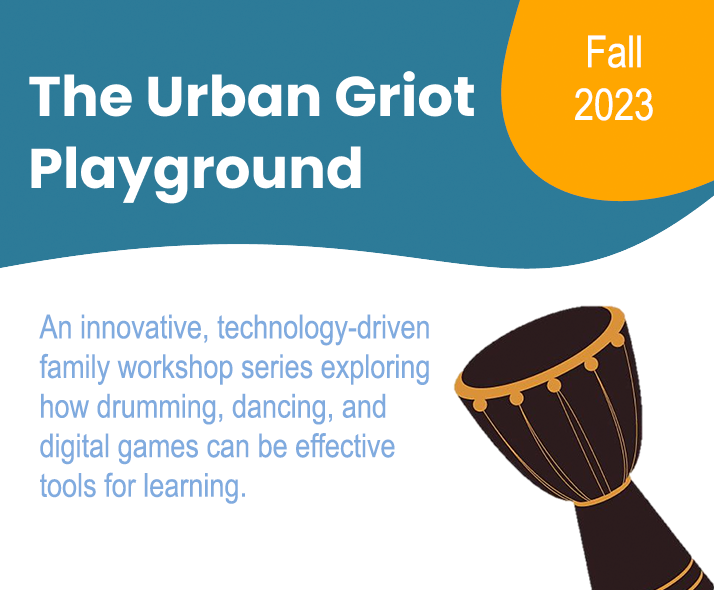 Sign Up for Our Workshop
Stay in the loop
Join our mailing list

>